Editor's note: This is a live account of COVID-19 updates from Thursday, July 7, as the day unfolded. It is no longer being updated. Click here to see all the most recent news about the pandemic, and click here to find additional resources.
The Centers for Disease Control and Prevention is recommending that people residing in 15 Washington counties and 24 Oregon counties resume mask-wearing on public transportation and in public indoor spaces.
Meanwhile, a U.S. policy announced on Wednesday will allow pharmacists to prescribe Paxlovid, a COVID-19 pill treatment, directly to patients.
We're updating this page with the latest news about the COVID-19 pandemic and its effects on the Seattle area, the U.S. and the world. Click here to see the rest of our coronavirus coverage and here to see how we track the daily spread across Washington.
Navigating the pandemic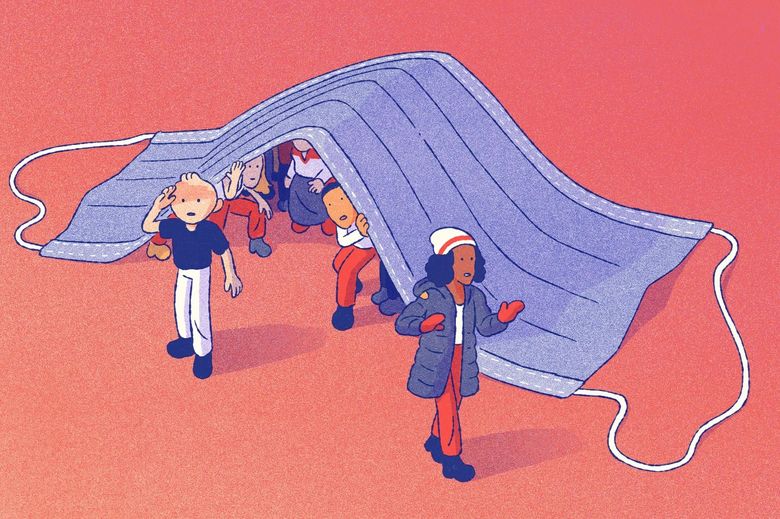 Pandemic has eroded Americans' trust in experts and elected leaders, survey finds
As the coronavirus pandemic entered its third year, the American public had lost much of its trust both in public health experts and in government leaders and was less worried than before about COVID-19, according to a survey conducted in early May and released Thursday by the Pew Research Center.
Confidence ratings for public health officials, like those at the Centers for Disease Control and Prevention; for state and local elected officials; and for President Joe Biden fell in a range from 43% to 54% in the survey — much lower than during the early stages of the pandemic.
The survey found a wide partisan gap in attitudes. Overall, 52% of respondents said that public health officials had done an excellent or good job at managing the pandemic. But while 72% of Democrats in the survey said they felt that way, only 29% of Republicans did.
Democrats were also more likely than Republicans — 67% to 51% — to say they had at least some confidence in how prepared the nation's health care system was to address a future global health emergency.
Read the full story here.
—Carly Olson and Christine Chung, The New York Times
What to know about California's latest COVID surge
Do you know someone with COVID right now? You're not alone.
California is in the midst of its third-largest COVID surge of the pandemic, with roughly 19,000 new cases being reported each day, according to The New York Times' tracker. The true number of people falling sick is undoubtedly even higher, since most at-home tests aren't included in official case counts.
The good news: Most people testing positive aren't becoming severely ill. In fact, the number of people dying from COVID in California is currently lower than at almost any point in the pandemic. (This trend holds across much of the country.)
We can thank vaccines and boosters, immunity from prior COVID infections and therapeutics such as Paxlovid — all of which seem to reduce the risk of severe disease.
Now on to the bad news.
Read the full story here.
— Soumya Karlamangla, The New York Times
Slow pace for youngest kids getting COVID vaccine doses
Nearly 300,000 children under 5 have received COVID-19 shots in the two weeks since they became available, a slower pace than for older groups. But the White House says that was expected for the eligible U.S. population of about 18 million kids.
The Centers for Disease Control and Prevention was to publish initial data on shots for the age group later Thursday, reflecting doses administered since regulators authorized them on June 18. The first vaccinations didn't begin until several days later because the doses had to be shipped to doctors' offices and pharmacies.
U.S. officials had long predicted that the pace of vaccinating the youngest kids would be slower than for older groups. They expect most shots to take place at pediatricians' offices.
Read the full story here.
—Carla K. Johnson and Zeke Miller, The Associated Press
7 WA counties should mask up, CDC recommends
People in seven Washington counties should wear masks indoors and on public transportation, according to recommendations from the Centers for Disease Control and Prevention.
These counties include Grays Harbor, Thurston, Clark, Grant, Adams, Spokane and Walla Walla.
The CDC's most recent COVID-19 community levels were calculated Thursday using data from June 30-July 6. The number of Washington counties classified as high risk decreased this week; 15 Washington counties were classified as high risk on June 30.
Community levels are calculated based on COVID-19 cases per capita and the percent of inpatient beds occupied by COVID-19 patients, according to the CDC.
"Cases overall seem to be flattening at this stage, though it is difficult to determine if these short-term trends are more representative of testing rates versus actual infections," said Emily Fredenberg, a spokesperson with the Washington State Department of Health.
The BA4 and BA5 Omicron subvariants are both increasing in Washington, with BA5 cases represented 35% of cases from June 19-June 25, Fredenberg said.
COVID-19 data reported on the state level likely only represents 10% of infections in Washington due to many residents self-testing at home, Fredenberg added.
—Omar Shaikh Rashad
This clunky mask may be the answer to airborne disease and N95 waste
In the early 1990s, long before PPE, N95 and asymptomatic transmission became household terms, federal health officials issued guidelines for how medical workers should protect themselves from tuberculosis during a resurgence of the highly infectious respiratory disease.
Their recommendation, elastomeric respirators, an industrial-grade face mask familiar to car painters and construction workers, would in the decades that followed become the gold standard for infection-control specialists focused on the dangers of airborne pathogens.
The Centers for Disease Control and Prevention promoted them during the severe acute respiratory syndrome outbreak of 2003 (called SARS) and the swine-flu pandemic of 2009. A few studies since then have suggested that reusable elastomeric respirators should be essential gear for frontline medical workers during a respiratory pandemic, which experts predicted would quickly deplete supplies of N95s, the disposable filtration masks largely made in China.
But when the coronavirus swept the globe and China cut off exports of N95s, elastomeric respirators were nowhere to be found in a vast majority of hospitals and health clinics in the United States. Although impossible to know for sure, some experts believe the dire mask shortage early on contributed to the wave of infections that killed more than 3,600 health workers.
Read the full story here.
—Andrew Jacobs, The New York Times
Europe is seeing 'new wave' of COVID-19, says EU medicines agency
THE HAGUE, Netherlands — A senior official at the European Union medicines agency said Thursday that many nations in the bloc are seeing a new wave of COVID-19, driven by highly transmissible mutations of the omicron variant.
The European Medicines Agency's Marco Cavaleri told an online briefing that the BA.4 and BA.5 mutations are expected to become dominant across the continent, "likely replacing all other variants by the end of July."
Click here to read more.
—The Associated Press
Got COVID? Doctors caution against powering through it — even from home
More than two years into the COVID-19 pandemic, when Dr. Anthony Fauci tested positive for the coronavirus, his federal agency announced that he would "continue to work from his home."
So did U.S. Secretary of Transportation Pete Buttigieg, who announced on Twitter that after testing positive, "I plan to work remotely." And so did San Francisco Mayor London Breed, whose office announced she would conduct meetings from home after testing positive.
As vaccines and new treatments have eased some of the alarm around a COVID-19 diagnosis, continuing to work — but from home — has become a familiar practice among professionals who can do their jobs remotely. Fauci was vaccinated and boosted and said he was experiencing mild symptoms, like other officials who said they would stay on the job from home.
Click here to read more.
—Emily Alpert Reyes, Los Angeles Times
CDC: Mask-wearing recommended in growing number of counties
PORTLAND, Ore. (AP) — People in 24 Oregon counties — including the county around Portland — and 15 counties in Washington state should resume mask-wearing indoors in public and on public transportation, according to recommendations from the federal Centers for Disease Control and Prevention.
In Washington, the counties at high risk include: Clallam, Grays Harbor, Pacific, Lewis, Thurston, Pierce, Chelan, Douglas, Grant, Walla Walla, Columbia, Asotin, Lincoln, Ferry and Spokane. That's an increase from six Washington counties at high risk as of June 23.
The most recent community levels were calculated June 30.
Click here to read more.
—The Associated Press

Seattle Times staff & news services