A new, second-generation COVID-19 vaccine developed by UW Medicine researchers has been approved in South Korea. If the World Health Organization also approves the vaccine from the Seattle health care system for emergency use, it will become available to countries around the world.
Meanwhile, officials in Beijing, the Chinese capital, appear to have backed away from plans to enact a COVID-19 vaccinate mandate in certain public spaces, after pushback from residents.
We're updating this page with the latest news about the COVID-19 pandemic and its effects on the Seattle area, the U.S. and the world. Click here to see the rest of our coronavirus coverage and here to see how we track the daily spread across Washington.
Navigating the pandemic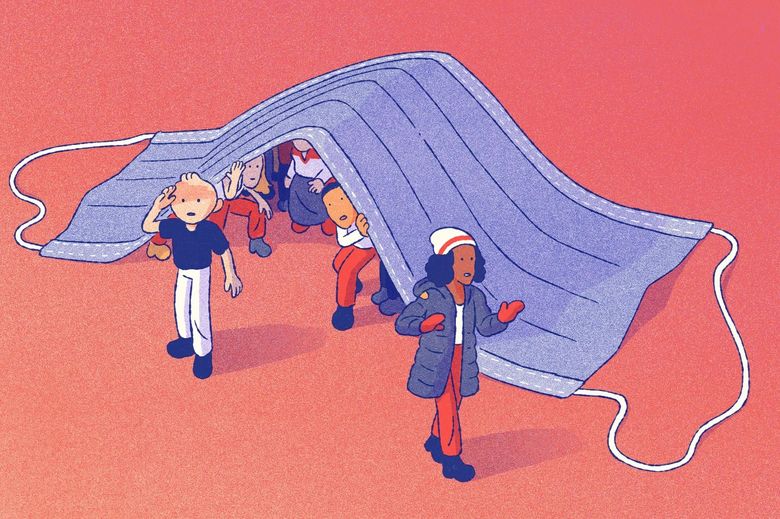 Tennis is done with COVID, but the virus isn't done with tennis
WIMBLEDON, England — With the final match looming, this year's edition of Wimbledon has already proved many points.
Rafael Nadal can play top-level tennis with a zombie foot and a tear in an abdominal muscle, but only for so long. Iga Swiatek is beatable, at least on grass. With Moscow-born, Kazakhstan-representing Elena Rybakina making the women's singles final, barring Russian players does not necessarily make a competition free of Russian players.
But perhaps most surprisingly, after 27 months of tournament cancellations, spectator-free events, constant testing and bubblelike environments, tennis may have finally moved past COVID-19.
For nearly two years, longer than just about every other major sport, tennis struggled to coexist with the pandemic.
In November, when the NFL, the NBA, the Premier League and most other sports organizations had resumed a life that largely resembled 2019 — no masks, no testing, no bubbles — tennis players were still living with restrictions on their movements, conducting online video news conferences and having cotton swabs stuck up their noses at tournaments.
Read the full story to learn more about how tennis is moving past the pandemic.
—The New York Times
Clark County at high risk for COVID-19; CDC recommends indoor masks
Clark County residents should now wear masks indoors to protect themselves and others from COVID-19, according to federal health guidance.
The Centers for Disease Control and Prevention raised Clark County's COVID-19 risk level from "medium" to "high" Friday. It is the first time Clark County has been listed as high risk since the omicron surge last winter.
Recommendations for high-risk counties include wearing a well-fitted mask indoors in public regardless of vaccination status, staying up to date with COVID-19 vaccines and boosters and following CDC recommendations for isolation and quarantine, including getting tested if you are exposed to COVID-19 or have symptoms of COVID-19
The CDC determines a county's risk level based on its current number of cases, hospitalizations and overall hospital occupancy.
Clark County's COVID-19 activity rate, which measures new cases per 100,000 population over seven days, rose from 159.1 last week to 196.1 as of Thursday, according to Clark County Public Health data.
Disease activity is likely much higher due to unreported at-home tests, Public Health officials.
Read the full story here.
COVID-19 cases prompt mask mandate at Denali National Park
Masks are now required for people using federal buildings or riding buses inside Alaska's Denali National Park and Preserve because of high COVID-19 levels in the broader community, officials said this past week.
The mask mandate took effect Friday, according to a statement from the park.
The park has instituted the mandate per U.S. Interior Department guidelines, which require masks when COVID-19 community levels reach the high status in the surrounding area.
Read the full story here.
—The Associated Press
Seattle Public Library temporarily reduces hours
The Seattle Public Library this past week temporarily reduced operational hours across its branches primarily due to ongoing staff shortages caused by COVID-19. The library system hopes to return to its regular schedule this fall.  
Of the 27 SPL branches, the flagship Central Library and 14 neighborhood libraries will continue to operate seven days a week, while the remaining 12 locations will be open five or six days weekly, including at least one day on weekends. Hours vary by day and location, and a full list of each location's hours can be found at st.news/SPL-hours. 
Seattle Public Library "has worked diligently over the last year to increase staffing levels and open hours," wrote Andrew Harbison, interim director of Library Programs & Services, in a news release announcing the reduced hours.
But "the ongoing surges and challenges of COVID-19 have taken a toll on library workers and are impacting the library's ability to consistently staff each building at pre-pandemic levels," he wrote.
The goal for this schedule change is to bring "stability" to library operations.  
Read the full story here.
—Jayce Carral
Lewis County Superior Court to 'strongly encourage' masks as COVID numbers rise
With COVID-19 numbers in Lewis County again on the rise, Lewis County Superior Court is "strongly encouraging" people to wear masks in the courtroom effective Monday.
The recommendation is "a measure prior to suspending jury trials once again," court administration stated in a news release Friday.
Superior Court will also revert Monday to virtual WebEx appearances for people with court dates who are housed in the Lewis County Jail — with some exceptions, such as for trials.
As of Friday morning, Lewis County had 243 cases of COVID-19 per 100,000 population and 11% of inpatient beds were occupied by COVID-19 patients, according to data from the state Department of Health.
Lewis County was classified as a medium risk in the Center for Disease Control (CDC) and Prevention's most recent COVID-19 community levels, which were calculated on Thursday using data from June 30 to July 6, according to the Seattle Times.
Read the full story here.
—The (Centralia) Chronicle
Choose your reality: Trust wanes, conspiracy theories rise
Daniel Charles Wilson believes the attacks of Sept. 11, 2001, were an inside job. The war in Ukraine is "totally scripted" and COVID-19 is "completely fake." The Boston Marathon bombing? Mass shootings in Newtown, Connecticut, and Buffalo, New York, and Uvalde, Texas? "Crisis actors," he says.
Wilson, a 41-year-old from London, Ontario, has doubts about free elections, vaccines and the Jan. 6 insurrection, too. He accepts little of what has happened in the past 20 years and cheerfully predicts that someday, the internet will make everyone as distrustful as he is.
"It's the age of information, and the hidden government, the people who control everything, they know they can't win," Wilson told The Associated Press. "They're all lying to us. But we're going to break through this. It will be a good change for everyone."
Wilson, who is now working on a book about his views, is not an isolated case of perpetual disbelief. He speaks for a growing number of people in Western nations who have lost faith in democratic governance and a free press, and who have turned to conspiracy theories to fill the void.
Rejecting what they hear from scientists, journalists or public officials, these people instead embrace tales of dark plots and secret explanations. And their beliefs, say experts who study misinformation and extremism, reflect a widespread loss of faith in institutions like government and media.
Read the full story here.
—David Klepper, The Associated Press
Los Angeles residents are reacting to possible return of mask mandate
Residents of Los Angeles County could be forced to don face masks in stores and other indoor public spaces once again by the end of this month if COVID-19 hospitalization rates continue accelerating at current pace, public health officials warned this week.
A universal indoor mask mandate is not for certain, and the timetable for that could change, depending on actual hospitalization numbers. Still, some business leaders, health professionals and members of the public are already reacting to the potential return to a mask mandate.
The number of COVID-positive patients in hospitals in L.A. County surpassed 1,000 on Friday, July 8, according to state figures. Friday's test-positivity rate was 15.7%, according to the county Department of Public Health.
The county is currently at the "medium" virus activity level, as defined by the U.S. Centers for Disease Control and Prevention. It will reach the "high" category if the seven-day average of new COVID-related hospital admissions reaches 10 per 100,000 residents.
If the county does enter the "high" category and remains there for two weeks, the county would reimpose a universal indoor masking mandate. In other words, a mask-wearing mandate could return as soon as July 29.
Some business owners are calling that "needless." Jennifer Febre is a brewery owner tentatively planning to launch her second restaurant during the last week of July. "I'm really sad that we might be opening our doors with masks on," she said.
But some local residents are saying they wouldn't be bothered. "I would actually welcome it because I wish more people would wear masks," said Cynthia Perez.
Read the full story here.
—Linh Tat, Torrance Daily Breeze
Florida authorities accused of stiffing contractor for COVID test kits
Florida's Division of Emergency Management stiffed a private contractor for some $4.4 million in COVID-19 test kits during the state's first weeks of the coronavirus pandemic, a new lawsuit claims.
The suit, announced Thursday, says the state agreed to order some 600,000 test kits in March 2020 — a time when public health officials were still scrambling to respond to the potentially deadly virus. Despite emails from the state that appear to confirm the purchase, though, the Division of Emergency Management ultimately accepted and paid for only a third of the tests.
"Everyone, from individuals to the smallest of small businesses to the largest of entities like the state of Florida, is bound to honor the contracts they sign," read a statement by attorneys John Morgan and Thomas Cargill, whose firm filed the lawsuit.
Neither the Division of Emergency Management nor its former director, Jared Moskowitz — a Broward County Democrat now running for Congress — responded to requests for comment.
Read the full story here.
—Kate Santich, Orlando Sentinel
COVID deaths spike in Tri-Cities, outbreaks reported
Five more residents of the Tri-Cities area have died due to COVID-19, the most deaths reported in a week by the Benton Franklin Health District in almost four months.
The deaths were announced Thursday as the Centers for Disease Control and Prevention released improved COVID-19 community level ratings for the Tri-Cities area.
A week ago it rated the community level in Franklin County as "medium" and the community level in Benton County as "low," but now rates both counties' levels as "low."
The data from the Benton Franklin Health District was less positive. It reported the highest new case rate since February.
Seven counties in Washington were rated by the CDC as having "high" COVID-19 community levels, down from 15 a week earlier. Thirteen counties were rated as "low" and 19 as "medium."
Read the fully story here.
—Annette Cary, Tri-City Herald
New study indicates anti-diabetes drug helps with COVID
COVID-19 patients were less likely to die or need hospital care if they took the common anti-diabetes drug metformin, according to a long-awaited University of Minnesota study, but not if they took ivermectin.
The results of the ambitious remote clinical trial could steer doctors toward off-label use of one cheap and available drug for the treatment of COVID-19 — just not the one that has drawn the most public attention.
"It does appear that metformin substantially reduces the risk of (emergency department) visits, hospitalization or death from COVID-19, and that reduction is significant," Dr. Carolyn Bramante, the leader of the trial, said in an interview.
The study of more than 1,300 participants is a third strike against ivermectin, a controversial anti-parasitic drug that also failed to produce a benefit against COVID-19 in large clinical trials in the U.S. and Brazil. However, the finding in the Minnesota trial was not statistically significant, meaning that it neither proved that ivermectin worked or didn't work when taken over three days in a moderate range of dosages.
Read the full story here.
—Jeremy Olson, Minneapolis Star Tribune
Depressed, anxious, tired and distracted: Since COVID, more Americans are turning to medications
If you're wondering which pills and how many of them Americans have relied upon to make ourselves feel better since COVID-19 arrived, the answer, in short, is yes.
"I should have gone back on medication sooner in the pandemic than I did," said Leah Bellow-Handelman, 36. Bellow-Handelman, a nurse who lives in Brooklyn with two small children, has been on and off Prozac for anxiety since her 20s.
In 2019, the Centers for Disease Control and Prevention estimated that 15.8% of American adults took prescription pills for mental health.
Once the pandemic began, the National Center for Health Statistics teamed up with the Census Bureau to carry out quick online surveys and tracked mental health prescription pill use.
Now, almost a quarter of Americans over 18 are now medicated for being depressed, anxious, tired and/or distracted.
Read the full story here.
—Casey Schwartz, The New York Times

Seattle Times staff & news services